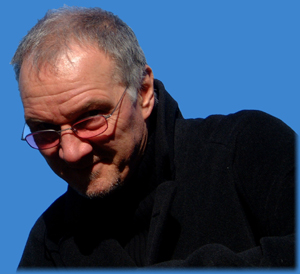 Judge a man by the company he keeps, so the saying goes. By those standards, the company Ian Wallace keeps would rank him among the most accomplished and highly regarded drummers of his time. Sought out by acclaimed artists and successful record producers, and a favorite of fellow musicians, Ian Wallace has quietly amassed one of the most impressive musical resumes of the last three decades.

But don't take our word for it. Consider that Bob Dylan has repeatedly hired Wallace as his tour drummer, in the 1970s and again in the 1990s. Consider that Don Henley, himself a drummer as well as a renowned perfectionist, selected Wallace to take over the drum chair for three of his solo tours through the '80s and '90s.

Need more proof: Wallace, who has worked with hundreds of performers, is hired most often by those whose reputations rest on their musical integrity. The Englishman has toured and/or recorded with such notables as multi-instrumentalist David Lindley; guitarists Bonnie Raitt, Ry Cooder, Larry Coryell, Robert Fripp (as a member of King Crimson), Lonnie Mack, Peter Frampton, Robben Ford, Joe Walsh and Alvin Lee; keyboardists Warren Zevon, Eno, and Keith Emerson; and vocalists Roy Orbison, Jackson Browne, Jon Anderson (Yes), Stevie Nicks, Steve Marriott, and Crosby, Stills, and Nash. Did we mention that he toured with Procol Harum and recorded with the supergroup The Traveling Wilburys as well?

If Wallace wanted to add more ammunition to his case, he could mention that over the years he's sat in with such famed bandleaders as Chuck Berry, Lindsey Buckingham, Tim Buckley, Jimmy Buffett, Eric Clapton, Bo Diddley, John Fogerty, Glen Frey, Billy Joel, Little Richard, Dave Mason, Al Kooper, Linda Ronstadt, Boz Scaggs, Bob Seger, Jo-el Sonnier, Otis Spann, Sting, and Steve Winwood.

But, if there's judging to be done, then let those with firsthand evidence do the testifying. David Lindley, who worked with Wallace for years in the band El Rayo-X, once told Musician magazine that Wallace played "like a beast." Lindley spoke especially well of Wallace's authority and his eclectic range, saying "Ian's got these long arms, and that's where he gets his power from. It's like the rock-on-the-end-of-the-string principle. Sounds like a freight train."

In a review of an El Rayo-X album, Win This Record!, respected music critic Dan Forte said of Wallace, "No one combines subtlety and brute force quite like Ian Wallace", adding that the Englishman got his vote as "The best drummer in L.A." at the time.

Don Henley spoke of similar qualities when describing Wallace during an interview with Modern Drummer magazine. "I like the way Ian plays", Henley said. "He plays simply although he can get very complex. He can play jazz very well. He's also one of the few drummers I know who doesn't rush. I just like his style...He's a hell of a nice guy and a hell of a drummer. That's why I wanted him in my touring band."

Henley also praised Wallace's ability to work within a live show that included pre-programmed segments, commenting on how well Wallace triggered certain effects while maintaining his own live parts on his kit. "He's very, very good at that sort of thing", Henley said.

Bonnie Raitt is another who was glad to go on record crowing about what she called Wallace's "killer drumming." Her remarks can be found on the liner notes of her Warner Bros. greatest hits album, The Bonnie Raitt Collection, in which she talked about the wondrous groove Wallace brought to a cover of Toots and the Maytals' "True Love Is Hard to Find".

Most recently, Wallace has been touring with 21st Century Schizoid Band, a group comprised of fellow former King Crimson members Mel Collins, Peter Giles and Ian McDonald and Level 42ís Jakko Jaksyck to sold-out crowds across Europe. He has also performed live with T. Graham Brown, the Nashville Chamber Orchestra, Rick Vito, Jessi Alexander, Kelley Hunt and Billy Burnette, the latter in a sharp quartet that includes bassist Dave Roe of Johnny Cash's band and Kenny Vaughan of Lucinda Williams' band.

As a producer and player, he has worked with singer/songwriter Andy West and new MCA artist Jessi Alexander. Among his recent studio recordings have included sessions with Kim Richey, Tim Krekel, Rick Vito, Dean Dillion, Rosie Flores, Kim Ford, Jessi Alexander, producer Gary Nicholson, Steve Ripley, Jan Pulsford, Tim Hinkley, Charlie Taylor, Rodney Crowell and the legendary songwriter Dan Penn. And as if that wasnít enough, he recently he released his first solo cd, Happiness With Minimal Side Effects.

Wallace makes his home in Nashville, TN and is an endorsee of Yamaha Drums, Avedis Zildjian Cymbals and Sticks (Ian Wallace Artist Series model drumstick), Evans Drumheads, Shure Microphones.